Shipping Worldwide

Transit Time: 20 - 30 days

Shipping Locations & Costs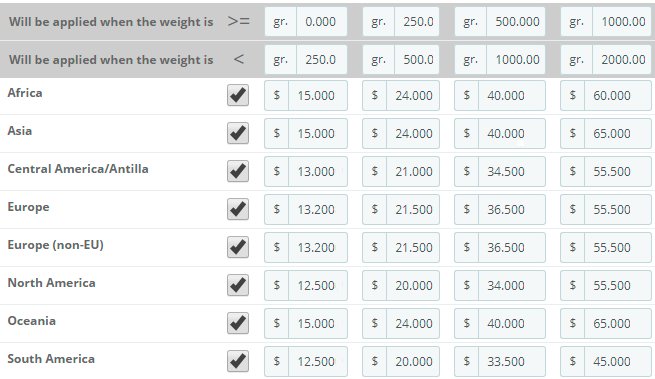 About the butterfly frames, what is your return policy? 


All genuine butterfly items are final sale. They are too fragile to send back and forth. Since they are pieces of original art, some of them are created as they are ordered, that means you will not always receive the same butterfly as the picture shows. They are very good representations of what you will receive. Mother Nature creates our butterflies, allow for her slight differences. Our collections are refundable with insured return and prior authorization, email us first: 

sales@peruhand.com

.

Anyunauthorizedreturnwill be refused.
     The 2Checkout.com Shopping Guarantee protects you when you buy from 2Checkout.com, so that you never have to worry about credit card safety. Period.
     If you are not satisfied with the product or service provided by PeruHand, contact 2Checkout immediately. They will intercede and work to resolve the dispute to the satisfaction of all parties. If the matter cannot be resolve we will issue credits as necessary.
     2Checkout.com assumes responsibility for its selling partners if they fail to provide the goods or service paid for and become unreachable or unresponsive, the buyers funds will be returned and it will be 2Checkout.com is responsibility to pursue the matter with your assistance.
     You will never pay charges made to your card through unauthorized parties, contact us if there are charges on your bill you do not recognize.
     To protect you from catastrophic losses, under the Fair Credit Billing Act, your bank cannot hold you liable for more than $50 of fraudulent charges that are not the result of negligence or fraud on your part.
     2Checkout Secure Sockets Layer (SSL) software is the industry standard and among the best software available today for secure online commerce transactions. It encrypts all of your personal information, including credit card number, name, and address, so that it cannot be read as the information travels over the Internet. 2Checkout.com does not allow any transactions that do not occur on a Secure connection.
     As a part of their service agreement selling partners agree not to engage in spam. Should you receive an unauthorized email with a 2Checkout.com payment link included please contact 2CO immediately.
How long will it take for me to receive my order?


We deliver your order in about 2-4 weeks. The amount of time that it takes for your order to reach its destination depends on two factors. One is the type of product you have ordered and another is our products are handmade and are not stored in warehouses in mass quantities. There are some occasions when orders must be specially made, and this can present delays in the shipment of an order. In the event that your order must be specially made, you will be contacted by e-mail and informed of the nature of the delay and the expected time frame for shipment of your order.
How PeruHand ship my order?


We ship our products by international Certificate mail, a function of the Peruvian postal service operated in cooperation with postal services throughout the world.
How do I track my orders?


If you already have your tracking number and want to find out the status of your package, you have to call your local Mail Service and tell your tracking number. They will give you information about your order or you can contact us to 

sales@peruhand.com

 and we will give you the status of your order.
Can I pay by check or bank transfer?


You can pay by check or by bank transfers in the case that you make a especial request of one product or if you are a wholesale customer.
Can I make a special request for a product?


Yes, we can provide you with a special product. For more information contact us to 

sales@peruhand.com

 and in your request, please include much information as is possible about the product that you would like to purchase at PeruHand.
What is your policy on returns and exchanges?


In the unlikely event that we process your order incorrectly or ship you a defective item, we will take back that item and replace with the original product, with no additional charge or if you want a full refund within 7 days of purchase. Returns will be gladly accepted for up to 5 days after the date of receipt.
What if I do not receive my order?


Be sure to indicate the correct mailing address when you are filling out your order form. PeruHand is not responsible for items that have not been received due to an incorrect address or change of address. If you have not received your order and would like to check the status, please contact our Customer Service Department at

sales@peruhand.com

 (be sure to note your order number and e-mail address, and verify the correct mailing address). A customer service representative will check our records to determine when your order was processed and mailed.
Will PeruHand ever give out my personal information to third parties?


PeruHand respects your privacy and thus will never release any personal information (including your home address, e-mail address, and phone number) to any third party.PeruHand is 100% PrivacyGuarantee.
How can tell the actual size of a product?


As you know, pictures can be deceiving. For that reason, it is very important that you look at the size of a product before making a decision about whether to purchase it. You should be very careful when picking out products. We want to offer you the best possible perspective of a product is appearance and detail, and sometimes this comes at the expense of providing a true representation of the product is actual size. All products do come with size and weight specifications, however, so be certain to make that one of the things you check when viewing a product.
Products are individually handmade 


As all of our products are individually handmade, all sizes given must be considered as approximations, and minor imperfections and slight variations in color or design from items depicted should be expected.
Delivery Policy


We are not responsible if you do not receive your order if you provide us a wrong address. We sent all our package by certificate mail that mean the someone have to sign at the moment to receive the package. If you think that you or other will not be at the address that you provide us to receive the package please contact us to send the package by other service if you do not do that we are not responsible if you do not receive your order. If you will move to other address and you do not tell us, we are not responsible if you do not receive your order. The mail will try to deliver the package until 3 times in the address that you provide us but if not find any person at the address, we are not responsible if you do not receive your order. If you have any questions, please contact us at service department by email at 

sales@peruhand.com

.